Do common SugarCRM tasks inside your Gmail
Managing contact information within any company is a challenge, but we've made the task easier for those of you who rely on Gmail. Yathit Chrome Extension joins the power of Gmail and SugarCRM into one seamless experience, safeguarding your important contact information and bringing it out exactly when you need it.
Create Contacts On The Fly
Instead of copying and pasting text from one browser tab into another, Yathit lets you create new contacts and leads with just one click, automatically capturing information directly from the message. Creating new contacts couldn't be easier.
Quickly create or edit Leads, Contacts and Accounts. All editable fields are supported.
Use Yathit chrome extension's menu to display or hide specific fields.
Click the provided link to view your new record on the SugarCRM site.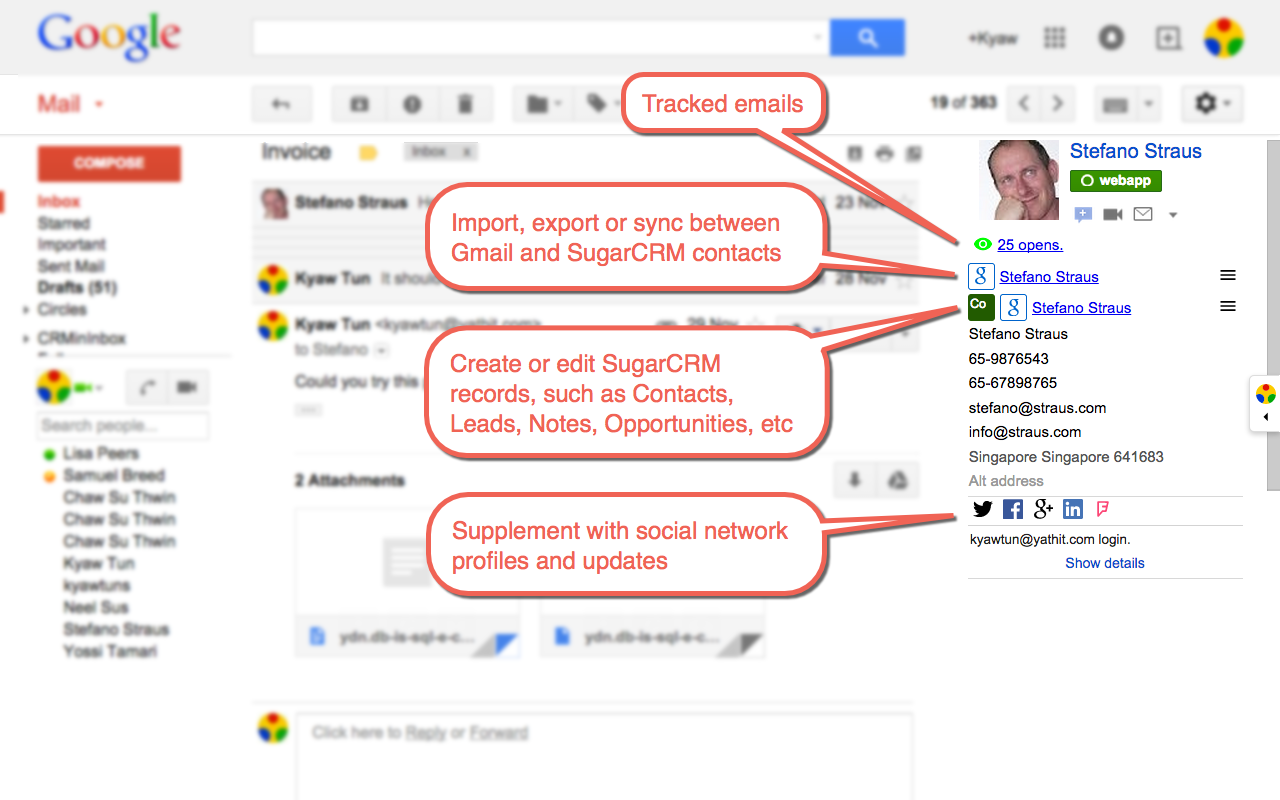 Know Your Customers Better
With quick access to all of your important contact information inside Gmail, you'll always be ready for any customer meeting, phone call or email.
Easily view the activity feed, upcoming appointments and calls, pending tasks, cases and opportunities.
View sender or recipient contact information and history—automatically displayed on the right side—when reading any email, Hover over the email addresses to change the target contact to display.
Keep up with your contacts via their social media updates and profiles, and see other public information they've shared online, all from within Gmail.

Create or edit SugarCRM records

Quickly create or edit SugarCRM record inside Gmail. Supported record types include Lead, Contact and Account. All editable fields are supported. Use menu to display or hide specific fields. After a record is created, a link is provided to view back on SugarCRM web site.

Quick overview

Quickly view activity feed, upcoming appointments, calls, tasks and cases.

Use template

Use all SugarCRM email templates directly inside Gmail compose panel.

Dynamic fields, such as, contact name, address are automatically applied from the database.

Search SugarCRM record

The sidebar gives you fast and easy access to all the data in SugarCRM. No more switching back and forth. Search quickly all kinds of SugarCRM record inside Gmail. The full text search include name, emails, phone number, title, record id and description.

Archive email

Directly archive Gmail message to SugarCRM. You can also upload gmail attachment to SugarCRM document module in one click. If already archive or uploaded, a link is provided to view in SugarCRM portal.

Empower with social information

In additional to displaying contact information in your CRM, Yathit Chrome Extension also provides publicly available or your social media information. You can view brief bio information on the network, photo, a link to public profile page, status updates or activity feed, etc.