Guest post by Code
Everyone knows that one phone call can be the difference between a huge sale and missing your quarterly sales goals. However, sales professionals today are required to juggle dozens of potential clients, increasing the odds that one will slip through the cracks.
Customer Relationship Management software helps salespeople keep track of their prospective buyers and helps seal the deal with easy interaction tracking. Today, salespeople on the go have to wait until they're back in their office to update their records, increasing the chances for a costly mistake.
CRM apps allow your salespeople to log their interactions wherever they are and make call tracking easy and fast. This list was created to help you evaluate a few of the best CRM applications. We've broken them down by their quality, user experience, and value so that you can find the one that's right for your company.
QuickCRM
We're going to start with Quick CRM, as it's the app most salespeople know. With more than 10,000 installs on the Google Play Store, it's the frontrunner in the mobile CRM experience.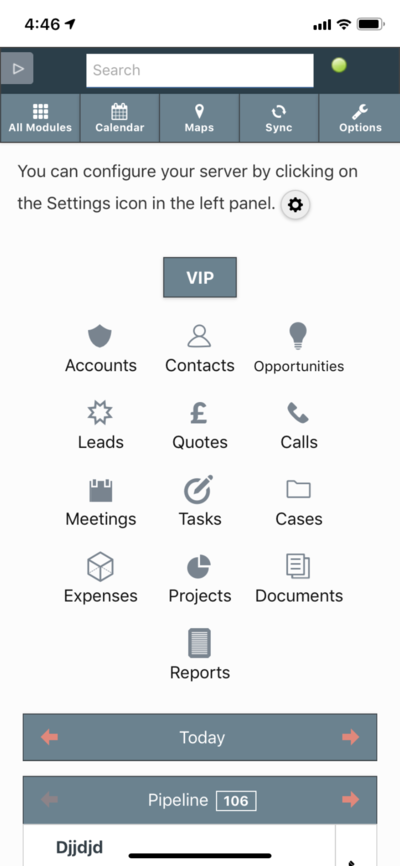 QuickCRM operates on a freemium model and provides mobile access to your SugarCRM CE or SuiteCRM data. With the free version, you can place calls through the app and log them in your CRM database, as well as keep track of meetings and calls on the included calendar. You can also copy contacts from your phone to your CRM software, and sort those contacts based on their geographical location.
The paid version starts at €300 for up to five users and comes with customer support, free updates, and several features not found in the free app. The paid version allows salespeople to use the app offline, create custom modules and fields from their phone, and save searches for easy future reference. It also automatically logs calls to contacts in your CRM, ensuring your data is always up to date.
QuickCRM is the market leader because it comes with the most features. That's a big part of the reason that it's so popular.
You can start multiple SuiteCRM instances at once with this app, which multitaskers will love. This app also gives you the ability to generate PDF quotes right from your phone. That way, you can strike while the iron is hot without having to get back to your computer.
However, this isn't an app without flaw, which is why we think some companies will be better off with other apps on our list. QuickCRM generally works well, but it suffers from an aging user interface, and it's overdue for a refresh.
While most basic functions are available from the home screen, most advanced features, like customizing searches, requires you to dig through a slew of submenus. There's also no way to change the font size, which runs towards the small side. The transition between offline and online operation can also be very slow and gets much worse when the local internet speeds aren't the best.
If you know your salesforce needs more features, QuickCRM is still the way to go. However, this app is sloppy around the edges, despite its premium price, which would suggest a cleaner experience.
Yathit
The first thing you need to know about Yathit Mobile App is it use standard SugarCRM REST API and doesn't require a server-side plugin. That's part of the reason that Yathit is great for small companies with just a few salespeople. It costs $5 per person per month, which means it's the second-cheapest app for companies who need 20 or fewer installs. If you don't need the full features and are willing to put up with ads, you can use it for free.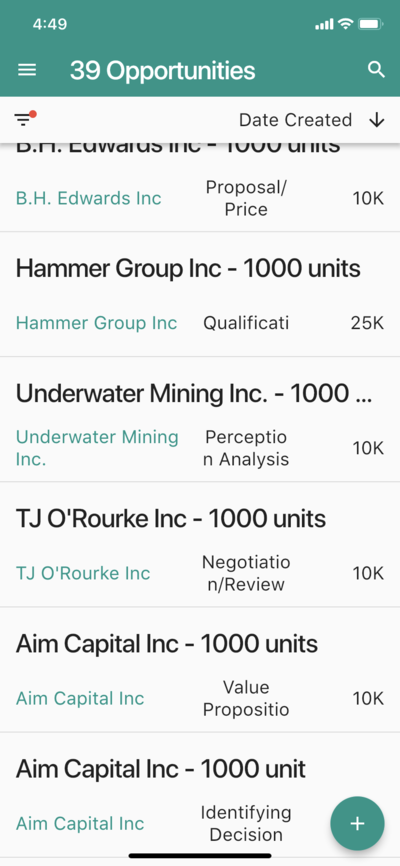 However, you get the best experience from the paid tiers, and given the price, it's worth trying out even if you're not sure you want to commit long-term. While FyNCRM is less expensive, it's not the best-made app out there, so if you're looking for an app that strikes a nice balance between value and performance, you would like Yathit.
Yathit is clearly designed with sales professionals in mind. Unlike the other apps on this list, it transitions seamlessly between offline and online mode. Since it doesn't ever require a server-side install, you'll be able to get started with it faster than you would with other apps.
Yathit has a clean, straightforward design, so it feels modern in a way that many of the apps on this list don't. It's easy to find what you're looking for when using this app, and you won't spend a lot of time digging through submenus. It's also well-optimized, running quickly on most devices. Its search is robust, and it allows for custom filters, which you can save for future reference. The only thing we really don't like about Yathit is that it's sometimes buggy. It's the newest app on this list, so that's to be expected. However, it does receive frequent updates, and we expect it to continue to improve in the future.
Yathit is a great financial choice for small companies, but it becomes much less price competitive at about 20 users. If you have more than 20 salespeople or plan on expanding your team in the future, you'll probably need to use a different app. While Yathit isn't a perfect app, it is clearly designed by people with experience in sales, and its price makes it a good choice for small businesses.
TapCRM
TapCRM is another app with a great-looking user interface. It's intuitive, clean, and modern, so your sales force should pick it up quickly. It comes with a few unique features, including the ability to see your prospects on a map and check the local weather at their location. It also comes with the most robust visualization features among any of the apps on our list.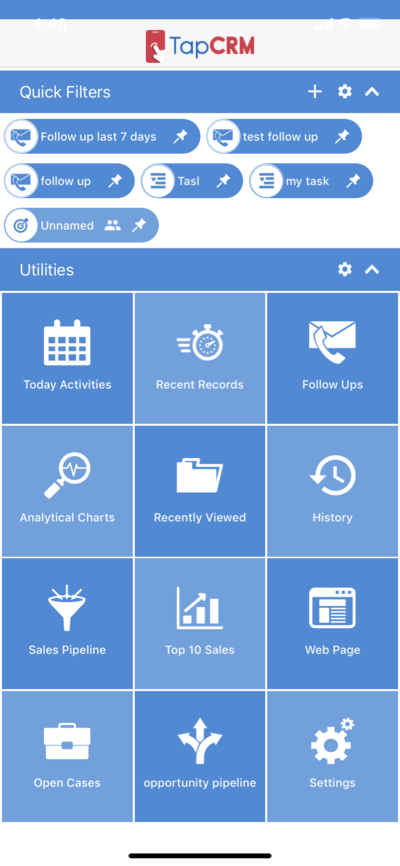 If you're a fan of using analytics to improve your sales processes, you'll like TapCRM. Another unique feature is the ability to check into and out of a meeting with a single tap. The location and duration will be logged, giving you even more data to play with. The offline mode works well, and many users report that the transition is seamless, or close enough to it to be not noticeable.
Many salespeople also like the email integration. You can compose entirely new emails or use premade templates and send them to your potential clients directly through the app. TapCRM can also schedule emails to be delivered at a specific time, adding a useful level of automation to this app.
However, TapCRM is that it lacks features that come standard in other apps. Chief among these is the ability to view attachments and upload documents within the app. Sure, you can use your email on another app on your phone, but the best CRM apps serve as one-stop shops, and TapCRM doesn't meet that goal.
It also lacks automatic call logging, which is one of the primary reasons you'd want a CRM app on your phone. You can log calls, but you have to do it manually, which means it's no better than using CRM software on your computer back at the office. Until it adds that feature, it won't be as useful as the other apps on our list.
You also have to install a server-side plugin, which adds to its overall inconvenience. Altogether, TapCRM isn't overpriced, but it isn't that great of an app, either. Given its value, many businesses could spend less or more on an app and get better value for their money.
FyNCRM
FyNCRM isn't the perfect app, but if price is your primary concern, this could be the app for you. It's the least expensive choice, costing $10 per month for five or fewer users, $20 for up to 50 users, and $40 for unlimited users. You gain some additional features with the higher tiers, as well.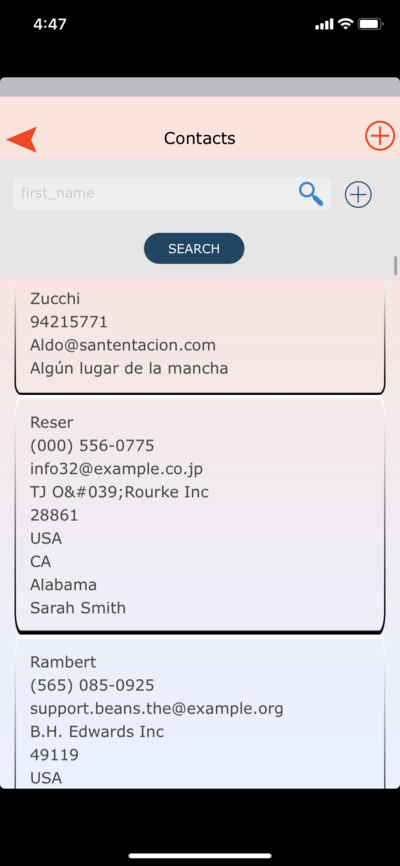 So, if you have a lot of salespeople and don't want to be out hundreds or thousands of dollars a month on your mobile CRM solution, you may be willing to put up with its flaws.
Of course, cheaper options often come with significant downsides. The first thing you'll notice when you open this app for the first time is that it has a bad-looking user interface. Most of the screens feature a pink-to-purple gradient in the background, which lends a non-professional air to this app.
In many other ways, from the icons to the text spacing, to the way certain text bubbles overlay others, this app looks like an unfinished school project. That's not to say that it doesn't work, but that your salespeople will know that you're handing them a tool that isn't that great before they even start using it.
Looks aren't everything, however. You still have to install a server-side plugin with this app, so it's behind Yathit in that avenue. It also lacks automatic call logging and the ability to import contacts from your phone. Like TapCRM, most tasks could be done more easily and more quickly on your computer once you're back at the office. It's nice to have easy access to this information in the field, but this isn't an app on which you'll want to do real work.
Of course, there are some companies which will like this app based on its lower price. Still, this is a perfect example of "getting what you pay for." While having access to your CRM data certainly convenient while you're on the go, it has the potential to expand what you can do and become an essential and productive part of your sales process. Unfortunately, FyNCRM has a long way to go before it becomes that kind of app.
Conclusion
We hope that our reviews have given you a sense of what each CRM application can do for your business. While we don't know your business and its specific needs, we do have some final general observations about each app and the businesses which they would best serve.
QuickCRM is going to be the best application for people who want to see their salespeople operate in the field with the all the features you expect from the desktop CRM experience. It's nice to have that flexibility, but it does come at a premium price, making this app better for established companies that don't mind paying a premium for a good experience.
Yathit strikes a remarkable balance between quality and price. It's far cheaper than QuickCRM and TapCRM but comes with a modern interface which many users will find easy to use. Even though it could use more bug fixing, small businesses especially will find it to be a great deal. And, since you don't have to install a server-side plugin, it's the fastest app to set up, and there's no way you'll accidentally mess up your CRM install base.
TapCRM lands in a poor place relative to the competition. It runs towards the expensive side, even though it's not as nice as comparable offerings. While the ability to create and send emails through the app is nice, the lack of automatic call logging is a flaw most companies will notice.
FyNCRM is the discount app in this field. If you really need a mobile CRM solution on the go, you could make do with FyNCRM. It doesn't look like a professional app, and it doesn't always work like one, either. It can be frustrating to learn and to use, so expect some pain in the transition when introducing this app. Ultimately, this should only be your go-to app if you can't justify paying for a better app.